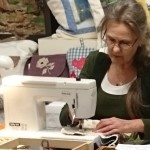 When I am demonstrating at a show, people want to know "how do you do it?" They can see I use a machine, but many find it almost incomprehensible that there is no thread or bobbin. There are seven barbed needles on mine and they punch through the layers of fabric, locking the fibres together. I always have samples with me so that the felted backs can be seen where the fibres have been pushed through.
I have put some links here for you to watch videos on YouTube, each of which shows the process from the most basic, to more advanced levels. I will make my own videos later, but these are useful for now.
https://www.youtube.com/watch?v=JwOAAslT_TM       Kirsten Houseknecht
https://www.youtube.com/watch?v=4BqMnGfyFlA         Homecrafts TV
https://www.youtube.com/watch?v=G6v-fC70XxY          Anni Hunt
https://www.youtube.com/watch?v=1Pc59ntPPkA          Isabella Hoffman
This last one shows the needles very clearly and how they work, also Isabella uses a 7-needle machine like mine, rather than the newer 12-needle version. Personally, the 7-needle is more than enough for my purposes – I combine embellishing with other techniques, and the needles are very expensive to replace. It isn't that difficult to break them!
There are several  manufacturers of embellishing machines now; mine is an eight year-old  Babylock and I love it.
http://babylock.com/sewing/embellisher-emb12-2/
The next most common question is  – "where can I buy an attachment for my sewing machine?"   Sorry, you can't – you will have to purchase an embellishing machine.
I see many students during the shows, and encourage them to add embellishing to their skills set. It can be very useful to add to other techniques to enhance their work, particularly surface design and costume -making, and a wide variey of materials can be used.
Elizabeth
All content © 2007-2018 Elizabeth Woods. All rights reserved. You may not take or copy any images or content from this site without written permission.